We are the world's first to successfully incorporate nanofiber in face masks.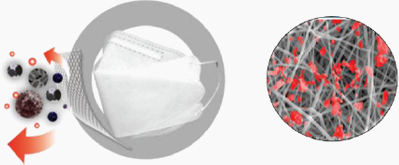 Lime's nanofiber incorporated face mask is very easy to breathe through due to its extremely wide surface area created by the web of nanofibers. It is very effective at mechanically filtering out PM2.5 particulates.
Conventional electrostatic filter masks' filtration efficiencies decline dramatically after it becomes a discharged, whereas nanofiber face mask provides consistent high efficiency filtering ability regardless of external environment.
1.Product advantages versus competitors
1.Product advantages versus competitors
Classification
Regular Mask
Technoweb Mask
Manufacturing Method
MeltBlown
Electrospinning
Characteristics

Initial filtration efficiency sharply decreases as electrostatic force discharges with usage.

Enormous surface area created from the web of nanofibers greatly increases the mechanical filtration efficiency.
Due to advantages of pure mechanical properties, the face mask continues to maintain its high efficiency throughout its life.
Regular Mask

Technoweb Mask
[SEM image after dust loading]
Particulate filtered by electrostatic method
Dust particles attached to the electrostatic force
Nanofiber's unique structure (specific surface area) increases particulate filtration capability.
Fine dust efficiently filtered through dense network of pores created by web of nanofibers.
2.Core Technology
Hourly IA Efficiency Test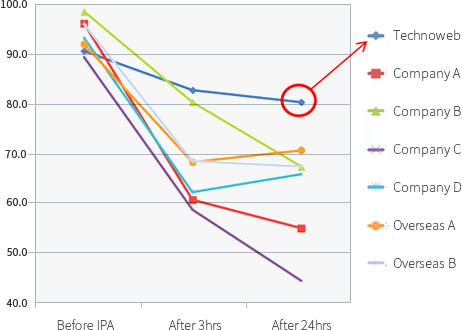 After discharging, conventional masks' filtration effectiveness deteriorates significantly whereas Technoweb Masks nanofiber webs will retain its effectiveness.
Technoweb's unique Nanofiber web structure allows effective filtration of harmful particles.
Products